Read this Rivian story to learn everything about the R1T's cabin that includes the finishes, storage, panoramic roof, audio system and many others.
_​
THE INSIDE STORY
Details, specs and other updates on the R1T cabin.
Today, we're taking you inside the R1T for a closer look at some of the materials, storage spaces and features
.
Today, we're taking you inside the R1T for a closer look at some of the materials, storage spaces and features
.
The vehicle we're showing is equipped with our Adventure Package and Forest Edge interior. You can find more about the Explore Package, different interior color combinations and new Rivian Adventure Gear in our
R1T configurator
.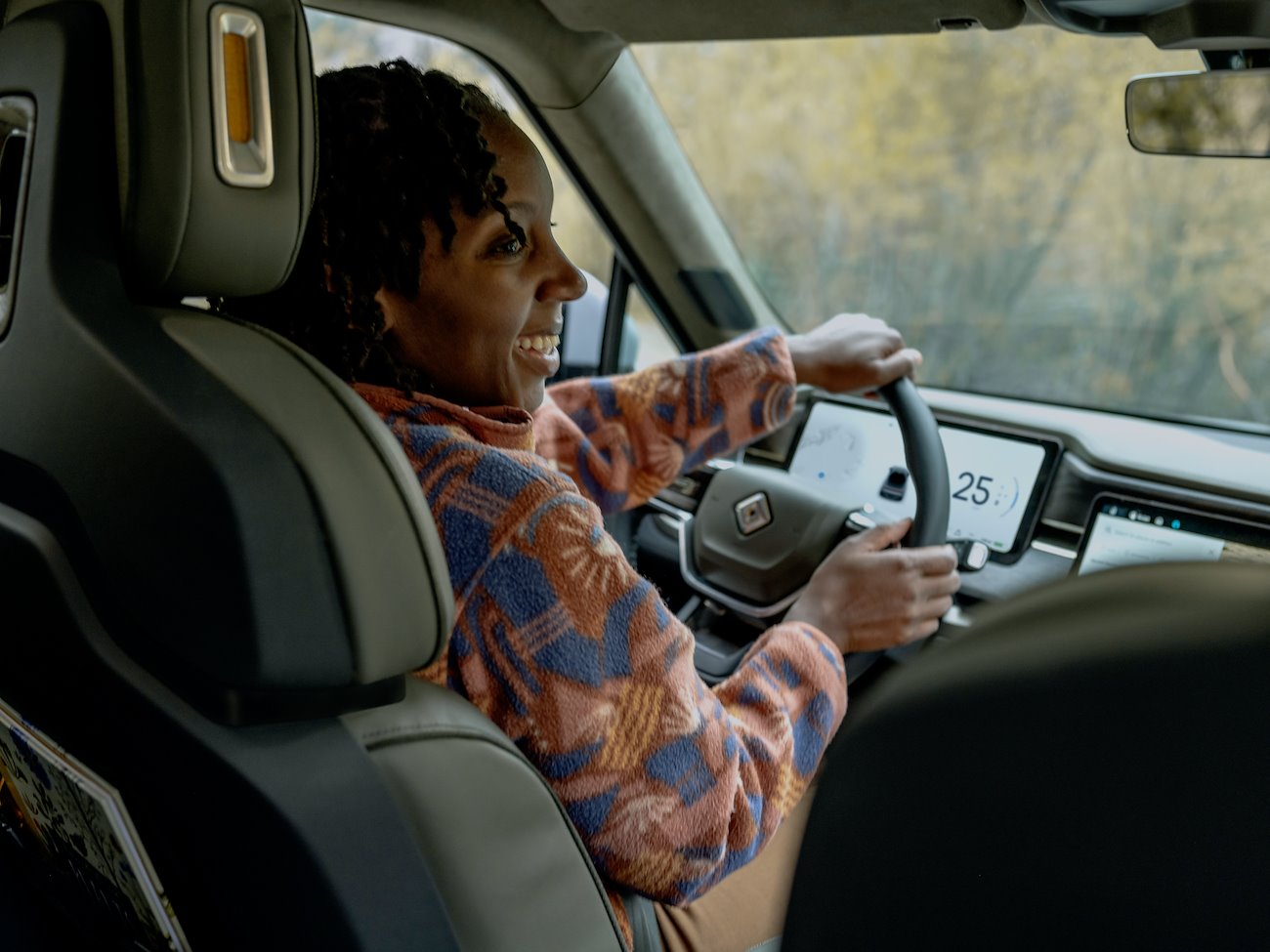 AT HOME ON THE ROAD
To create a refined cabin that can still handle muddy boots, crumbs and anything else you happen to track inside, we chose materials that are both durable and easy to clean.
Natural-grained ash wood in the front surround and trim is combined with other stain- and smudge-resistant surfaces, such as animal-friendly vegan leather seats and 100% recycled microfiber headliner.
Underfoot, you'll find quick-drying, lightweight Chilewich floormats that can easily be removed from the R1T, hosed off and replaced in minutes.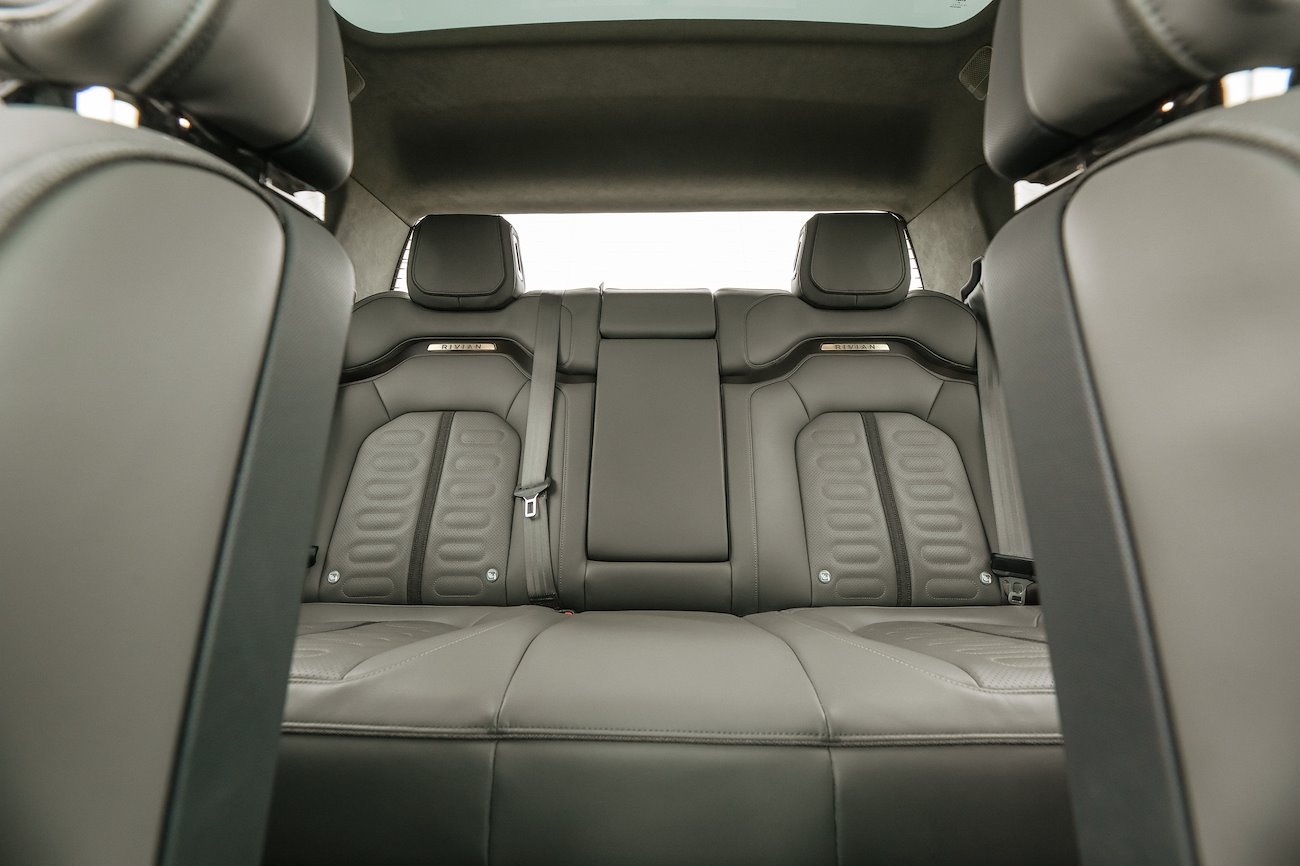 Designing a space meant to be lived in also meant focusing on comfort and personalization.
The front seats in the Adventure Package can be heated or cooled and offer eight-way adjustability (fore-aft, lift, tilt and recline) and four-way power lumbar support. When you unlock the R1T, your driver profile automatically adjusts the seat and steering wheel to your preferred position.
There are also plenty of options for safely bringing along your smallest co-adventurers. The back seats feature ISOFIX anchors and top tether attachments to accommodate up to three full-size car seats.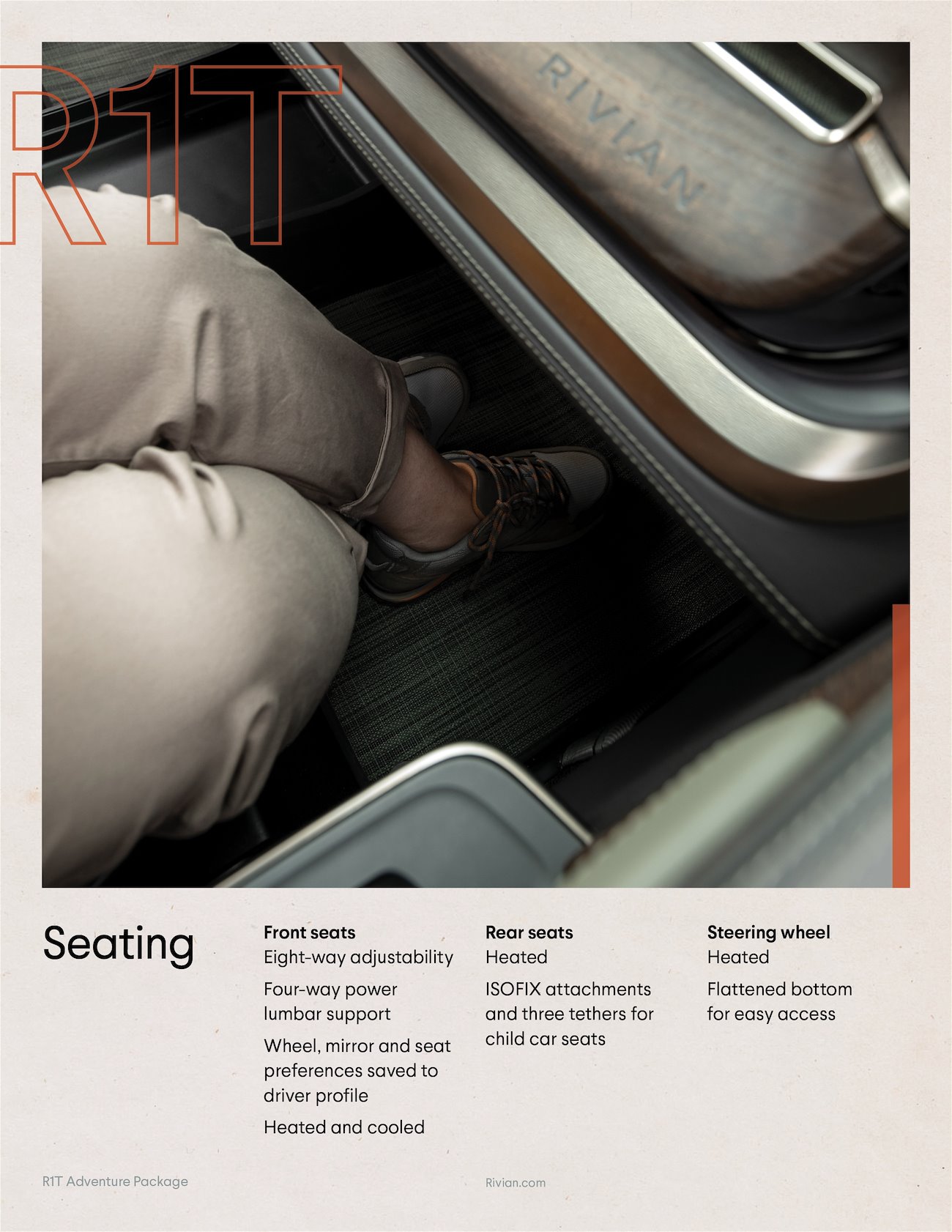 EVERYTHING IN ITS PLACE
We spent years observing how drivers use the spaces inside their vehicles.
The R1T takes what we learned and translates it into compartments that are both practical and plentiful. For the gear you want to have close by, like a daypack or duffle bag, there's a large, 14 x 11-inch space under the center display that provides easy access. Items you don't need while driving can be stowed under the R1T's rear seats. Simply lift the pull tab at the base of the seat cushion to reveal a 33-inch wide storage bin that spans the width of the center and driver-side rear seats. The space comes with removable dividers for organization and a base that's lined with rubber mats for easy removal and washing.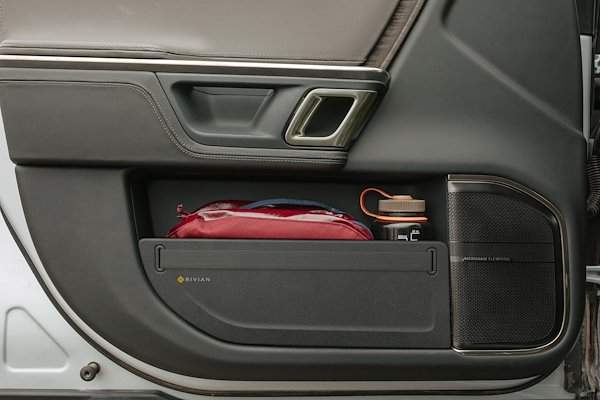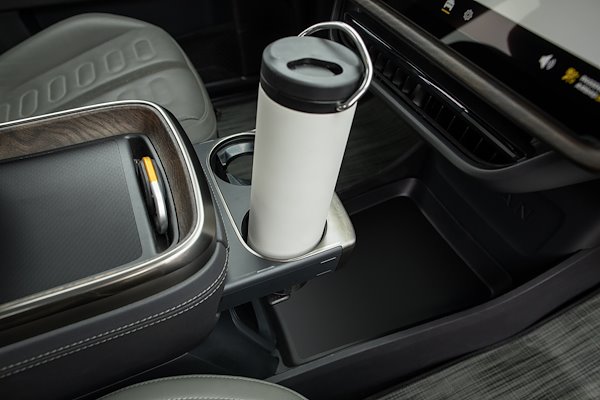 Smaller items such as notebooks and sunglasses can be placed in storage pullouts under the driver and passenger seats.
The passenger side door has a compartment that holds the optional 130-piece Rivian Field Kit, which includes emergency essentials like a rescue blanket, poncho and fold-up shovel. A rechargeable flashlight is also integrated into the driver side door frame and can generate a 1,000-lumen beam, enough to illuminate up to 150 meters of darkness ahead of you.
Finally, four retractable cup holders — two in the front center console and two in the rear seat center armrest — handle your water bottles and coffee mugs. You can also fit up to four 40-ounce water bottles in the R1T, one in each door's lower cargo compartment.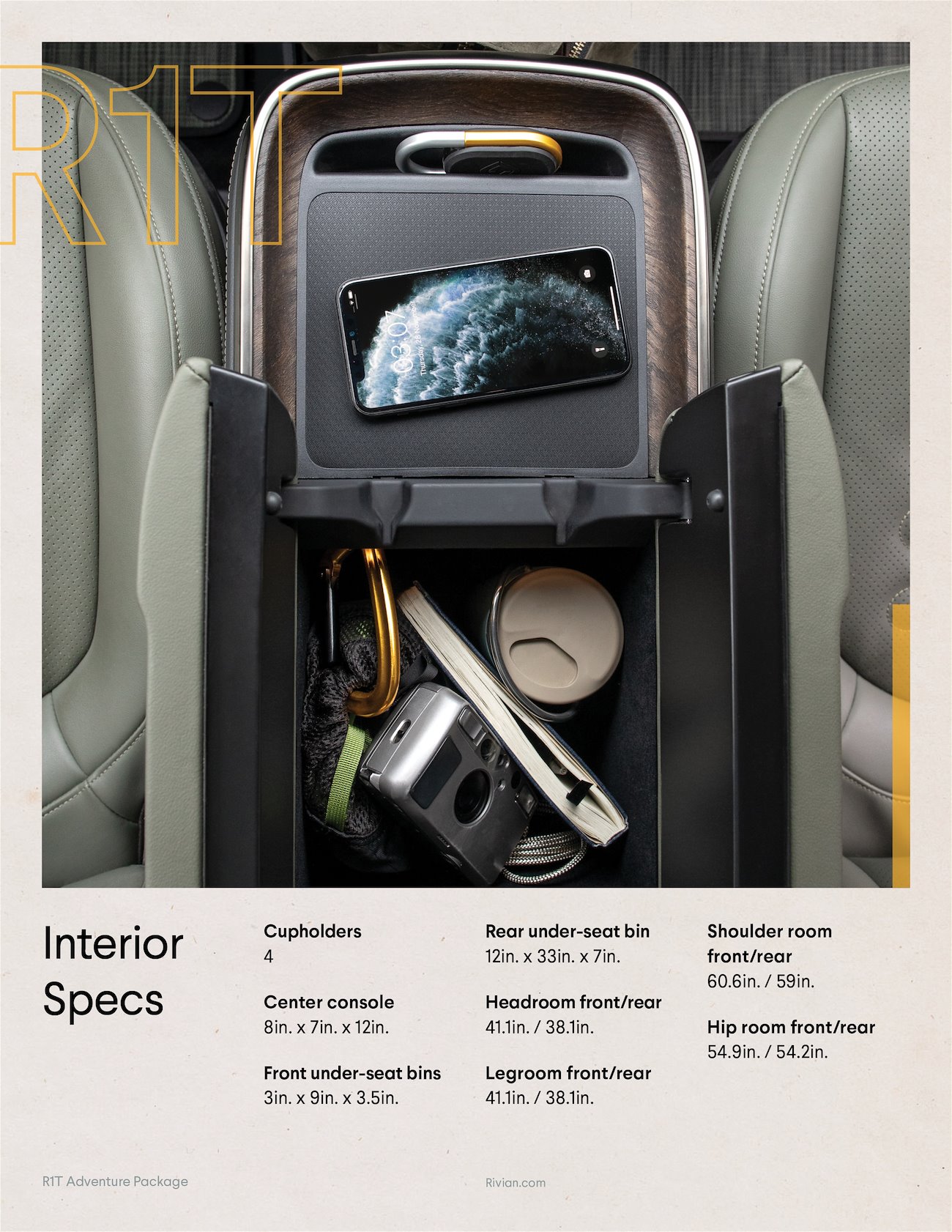 YOU'RE IN CONTROL
The center display is your main interface for viewing and controlling many of the R1T's most important functions
. Here, you can quickly access a handful of dedicated in-vehicle apps, like Navigation, Media, Drive Modes, Vehicle Controls, and Cameras. The 16-inch screen also provides at-a-glance info, including the weather and the vehicle's current Wi-Fi and cellular signal strength.
Our center display is also where all aspects of climate control happen. Drivers and passengers can each choose their preferred temperature and fan speeds using individual touchscreen options on either side of the display. The R1T's integrated air vents use air vectoring technology and eight electric motors that allow occupants to choose precisely where they want to aim the warm or cool air by moving an airflow icon on the touchscreen.
Passengers in the back seats can also set their own individual temperatures by using the 6.5-inch rear display on the back of the center console. Whether in the front or back, you can set different temperatures for the left and right sides of the vehicle.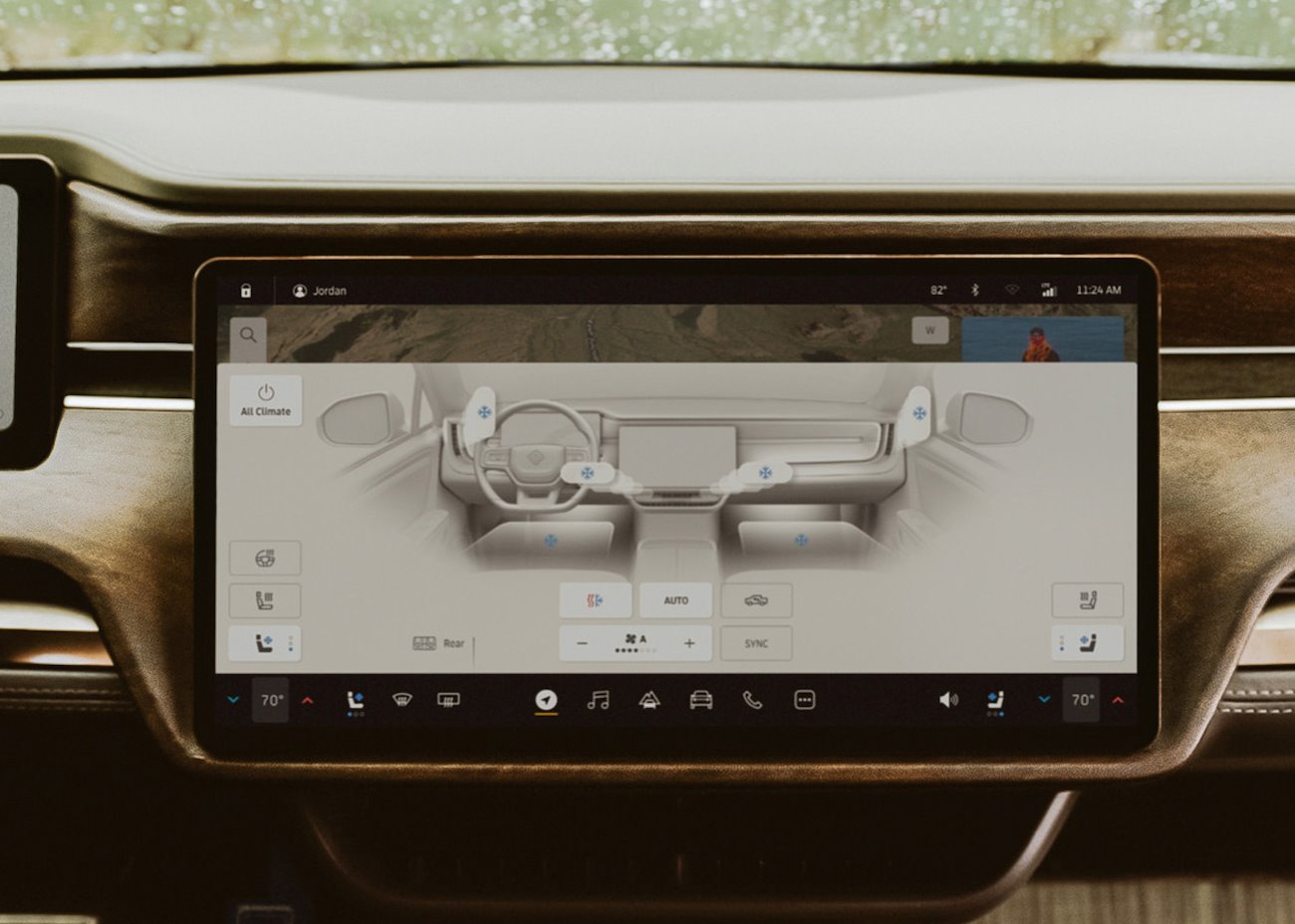 POWERING UP AND STAYING CONNECTED
Every Rivian can create a Wi-Fi hotspot using its own onboard 4G connection.
That means you can share reliable and secure internet access with your fellow travelers while on the road.
Keeping devices charged is easy, too. Throughout the cabin, you'll find six USB Type-C ports: two in the center console, two in the rear center console and two more in the back of the front seat headrests. A wireless inductive charger built into the center console can handle two smartphones. And should you need any more power, there's a 12V outlet concealed under the center display and a 110V outlet in the back of the center console.