Here Rivian explains what Roomy Entry & Exit is all about.
SOFTWARE SPOTLIGHT: ROOMY ENTRY AND EXIT
A fitting addition to the R1 feature list.
Our latest
software update
adds another way to personalize how you, and anyone else who drives your Rivian, enters and exits the vehicle.
https://stories.rivian.com/software...udience=gensub&mcrid=42121649#section-3341760
https://stories.rivian.com/software...udience=gensub&mcrid=42121649#section-3338932
To activate Roomy entry and exit, head to the Vehicle Access screen in the center display and select the "Set Position" button under the feature name. Using the thumb controls on the left and right sides of the steering wheel, you can adjust both its reach and height. Similarly, you can straighten or recline your seat, as well as move it backward or forward by using the controls on the lower left side.
Once you find the most comfortable position for sliding your legs in and out of your R1, select the "Remember Position" button and your truck or SUV will automatically make these adjustments each time you park your vehicle and unbuckle your seatbelt. The seat and steering wheel will remain in this location until you re-enter, tap the brake and shift into gear. Doing this returns them to your preferred driving position.
If you've invited friends and family members to create their own driver profiles with the Rivian app, they can add their preferred seating and steering wheel positions as well.
Here's everything else you need to know about
Roomy entry and exit
.
https://stories.rivian.com/software...udience=gensub&mcrid=42121649#section-3341806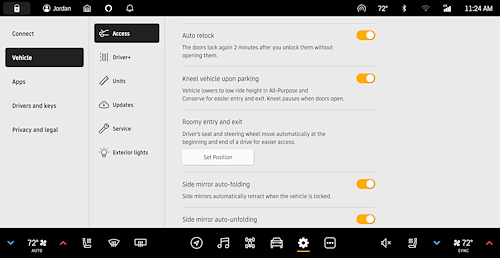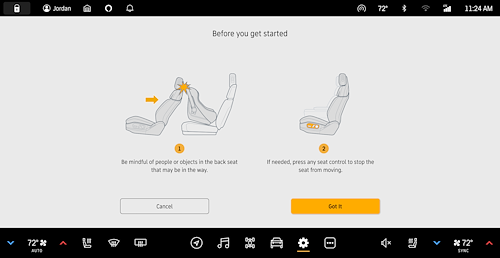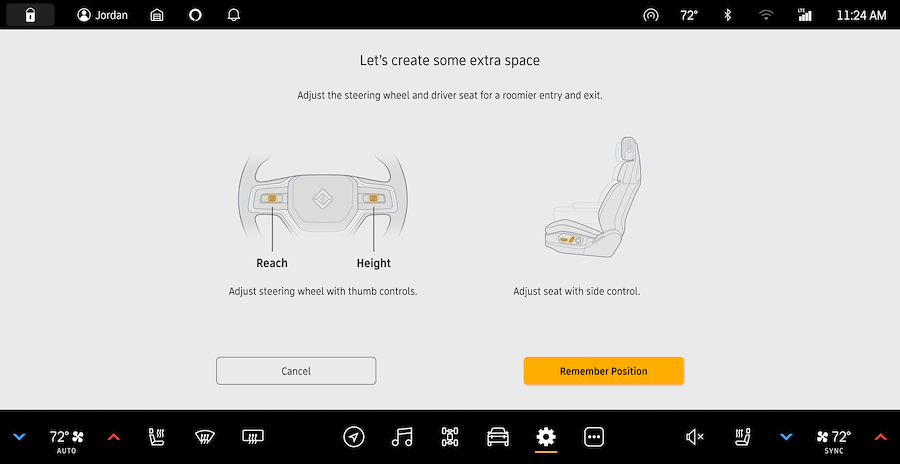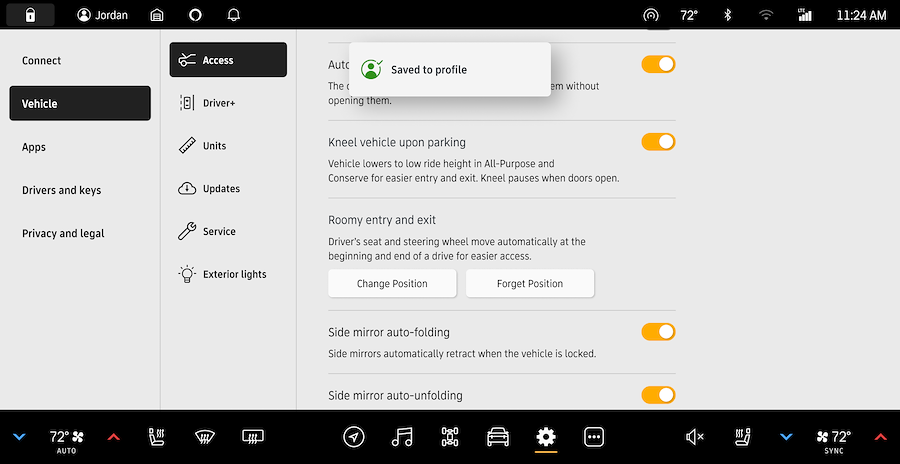 https://stories.rivian.com/software...udience=gensub&mcrid=42121649#section-3338213
What it does:
Roomy entry and exit automatically puts the driver's seat, seat back, and steering wheel column into the position most comfortable for you or anyone else driving your R1T or R1S.
What it does to the vehicle:
Once each driver has entered a preferred steering wheel and seat position, the vehicle automatically makes the necessary adjustments based on the key card, phone, or key fob of whoever unlocks the door. There's no limit to the number of drivers you can invite to your vehicle, but only two can use a smartphone as a key.
When to use it:
As our latest easy access feature, Roomy entry and exit joins other recent additions like
Kneel mode
. Used together, they offer an effortless way to get in and out of our vehicles.
When not to use it:
If your preferred entry and exit seating and steering wheel position happens to be the same as your driving position, there's no need to use the feature. (It's off by default.) There may also be certain situations where items stored in the rear seat footwells or installed kid's seats may prevent the driver seat from reaching your pre-programmed position. To quickly cancel Roomy entry and exit seat and steering wheel movements, press either the side seat button or the scroll wheel buttons on the steering wheel.
To clear the saved positions and start over or make further adjustments, head back to the Vehicle Access screen and select either the "Change Position" or "Forget Position" buttons.
Read the full details of this software update by clicking
here for R1S
and
here for R1T
in the US.
UPDATE DETAILS
Rivian R1S - Version 2022.43.02
https://stories.rivian.com/r1s-software-update-2022-43-02#section-3417326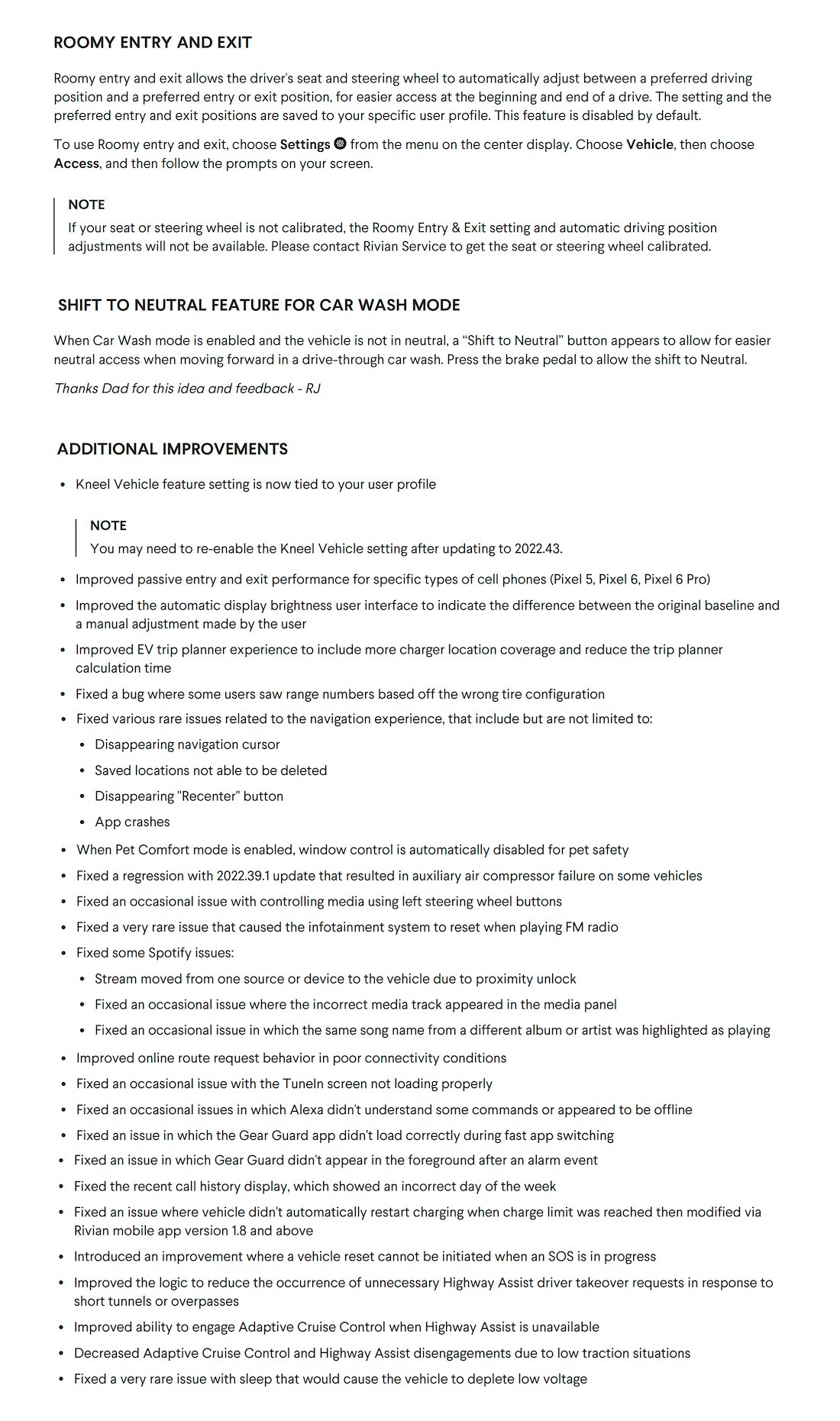 UPDATE DETAILS
Rivian R1T - Version 2022.43.02
https://stories.rivian.com/r1t-software-update-2022-43-02#section-3417408